I never had Valentine with my loves one before because for him it is not the Islamic way to do it. Surprisingly I can take this excuses maybe because I never had one at all. All I did before is either spend the night by myself or hang out with friends and shared a tin of Coke and a bar of chocolate. So today, I would start my Valentine celebration by myself again with this Valentine's Love meme by
Jean Chia
.
***start copy***
Rules:
1) Once you're tagged, install the corner banner at your blog as a third party html code. (The corner banner need to stay at your blog for at least 2 weeks).
2) Post about this meme,
Valentine's Love
.
3) Add your blog/s with link/s to the Valentine's Lovers list and leave a comment at this post
HERE
.
3) Tag all your special friends.
4) Please remember to update your list regularly so that you would not miss out anyone in your Valentine's Lovers list.
Corner Banner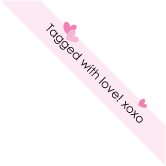 p/s:

The wordings on this banner with automatically changed to 'Tagged with Love! xoxo' on Feb 15.
(Please get the banner code from
Jean Chia
)
I am so terrible with html code.
Instruction to install corner banner
(For blogger):
1. Go to 'Layout', Click on 'Add a Gadget'.
2. Select 'HTML/ Javascript', insert the html code above in the provided box.
3. Click 'Save'.
Valentine's Lovers:
***end copy***




Now, Join me to spread the love. Oprah did say something like this last night "You dont have to be with your soul mate for Valentine because you can be with your family, your friends or even with your pets to shares and to be love in Valentine". This is so true.Sadly, I'll be alone with nobody except do few project that I need to deliver before 1st of March.

Anyway, I would like to spread this Valentine's Love meme to

Ahmad Nazif & his mother

,

Lotfi, Najwa & Waseem

,

BainCardin

,

MJ

,

Yudi & Wife

,

Zyul & Syema

,

Ashoda & his Love

...